Valentines Date Night Ideas in Katy, Texas
---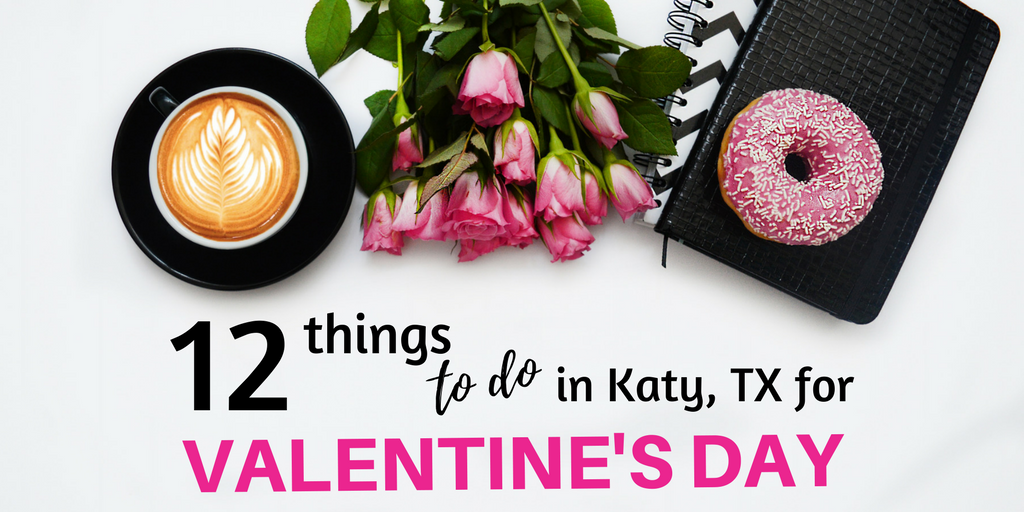 In case you've missed the red and pink filled isles in the grocery stores, Valentine's day is coming up! And this year, Valentine's Day falls on a Wednesday so you'll have something big to look forward to this hump day! However, this also means dates and galantines celebrations are limited to evening hours only. Luckily, Katy is filled with things to do in the evenings to make this Valentine's day unforgettable. Check out this list of Katy, Texas date ideas to get your Valentines inspiration pumping.
Create something together:
Okay this is a date night perfect for your significant other or for a group…. Take a painting class! Our favorite studio in Katy is Pinots Palette! At Pinots Palette, you're welcome to bring your own alcoholic beverages (must be over 21) and appetizers to enjoy throughout the painting class. Pinots Palette provides the canvas, paint, brushes, and an apron for $35 per student- you just bring the wine! Each day the studios offer a different painting. This Valentine's day they're offering two classes- one 6:30- 8:30 and one 7:00- 9:00, each with a "love" themed painting. You can check out what each class will be painting here on their class schedule.
Go Two-Stepping:
If you're 21 and up, then Mo's Place Katy is the place to go for some good old two-stepping. Mo's is a local favorite and a legend in the country music world. Mo's is having live music by Cody Kouba on Valentine's Day so you're sure to get some good honky-tonk music to two-step to. Mo's has inexpensive drinks but does not sell food so be sure to grab a bite to eat before you head over there with your dancing boots on.Keep reading for some restaurant suggestions!
Build something together:
Ever want to try wood working? The Rustic Brush Katy offers fun wood workshops where you can create something special for your home. Here you can build, stain, and paint wooden pallets, door hangers, directional signs, and door mats. No experience required! The Rustic Brush provides the wood, hammer, nails, stain, paint, and everything else you need to create your masterpiece. Depending on what you decide to build, the prices range between $25- $65 per person. For Valentine's day, the Rustic Brush is offering free wine, beer, and food to its workshop goers!
Laser Tag:
If you have a competitive personality, laser tag is a blast no matter what your age. Wear all black to blend into the black light course as much as possible; then pick a crazy laser tag name like "Shadow Striker" and run in there like a secret agent. Join your partner on the same team or go in as competitors. Main Event off of 1-10 in Katy offers Laser Tag, but also has bowling, an arcade, mini golf, a ropes course, a virtual reality room, and rock climbing. Another Laser Tag option is at Time Square off of 99. If you show up for laser tag before 6:30 pm, it's only $4 per person and goes up to $6 after that on Wednesdays at Time Square.
Go to a Brewery:
If you haven't been yet, you have to check out No Label Brewery! A huge outdoor brewery below the silos in Old Katy. There's always something going on- live music, trivia night, etc. For Valentine's day, No Label Brewery will be opening at 3:00 pm and will offer special beer glasses and a "Geeks who Drink" trivia night. You must purchase (or bring) a No Label brand glass and we suggest bringing a lawn chair because picnic table space is limited.
Take it Old School:
When's the last time you went to a roller rink? The 90's maybe? Gliding around under a disco ball, playing red light green light, what could be more romantic? The Mason Road Skate Center is offering a Valentines skate from 7:30- 10:30 pm for only $8 per person.
More than just Putt-Putt Golf:
The name Katy Inflatable may make you think moon bounce but this place has it all. Putt-putt golf, arcade room, inflatables, batting cages, and go karts. This is definitely something that would be fun with a group or just two people. You pay for what activities you like so you don't have to feel obligated to do it all. Oh and Katy Inflatables is located right next door to Bahama Bucks- shaved ice open year round. So after a friendly competitive game of putt-putt, head on over for a sweet treat!
Be Adventurous:
The Katy Hike and Bike Trail is a trail that runs through gorgeous George Bush Park. This gorgeous nature preserve has miles of twisting and winding trails with bridges and benches along the way. Taking a bike ride and enjoying the free air is always a great idea. Or pack a picnic and pick a resting point along the way. There's something old fashioned and fun about packing a picnic and going out into nature.
Take a Cooking Class:
If you don't mind a short drive, Sur-la-Table is just inside City Centre at beltway 8 and I-10. They offer cooking classes that are so much fun with your significant other or a group of friends. On Valentine's Day they offer classes at 11 AM, 2:30 PM, and 6:30 PM. Prices range from $25- $90 per person that day! You can check out the calendar and availability here.
DIY Cooking Class:
Okay not all of us can spend tons of money on a date night so here's an idea… take a diy class at home. For example, take a cooking class at home. No really there's so many YouTube videos with "how-to" style cooking. Head to the grocery store together and then learn how to create a great meal together. And if it turns out badly I think just about every pizza place is delivering heart shaped pizzas on Valentine's Day ;)
DIY Painting Class:
Another at-home DIY class is a painting class at home! Either pull up a step-by-step video or buy a "paint by number." You can find canvases and paint pretty cheap at Hobby Lobby or Michaels. You can hang your master piece in your home and always be reminded of your stay at home date night when you walk by.
Dinner Dates:
If you're looking to do something more traditional, a dinner date is always a good idea. I mean who doesn't like food?! Katy is full of great eats and hidden gems! We didn't have time to name them all but here are a three suggestions that stood out as great Valentines dinner date locations!
The Cellar Door is located right on Mason Road and is the perfect quiet and quaint place to meet your date for Valentine's Day. The Cellar Door offers a huge selection of wines but is also hosting a 3 course dinner for Valentine's Day. Live music will be played by Aaron White and the menu looks fantastic (check it out here.) The price for the meal is $100 per couple and reservations are required so be sure to snag a seat soon.
Try something new! Peli Peli opened this year in La Centerra and offers the finest in South African cuisine! Try Prawn biltong, and other delicacies. Trying something new together is always a fun date night and this is one you won't be disappointed in! We do suggest reservations for Peli Peli as well!
Whiskey Cakes is like taking a step back in time! The waiters wear suspenders and the food is actually all local! And it's delicious. They're known for their dessert, the whiskey cake and their lineup of numerous whiskeys! But the food is also outstanding! Worth a dinner date night trip for sure!