Get to Know Phoenix, Arizona Like an Expert
---

ABOUT:
Welcome to the Valley of the Sun! Home to over 1.6 million residents, Phoenix is the 5th largest city in the United States. The Greater Phoenix area has a combined population of over 4.5 million residents! Nestled in the heart of the Sonoran Desert, Phoenix touts an average temperature of 75 degrees with an annual high of 87 degrees and annual low of 63 degrees. This includes an average winter high of 67 degrees and an average summer high of 106 degrees.
Phoenix enjoys the sun shine during 85% of its daylight hours, making it the perfect place for outdoor activities year round! Phoenix is home to over 200 golf courses, hundreds of miles of hiking, biking, and equestrian trails, and it hosts 15 Cactus League franchises for baseball spring training. There are 6 lakes within a 75 minute drive from Phoenix and the Salt River provides a full day of floating. During the warm summer months, a cooler get away is only a couple hours' drive up north and north east of the valley.
The Phoenix Metro Area boasts a healthy economy, unemployment below the national average and a jobs growth outlook over 38% in the next decade. The metro area hosts several large companies and corporations such as Discover, American Express, USAA, Intel, Banner Health, Boeing and Amazon. With income taxes and property taxes well below the national average, the cost of working and living in Phoenix is very affordable.
Brian and Heather Petree
Local Phoenix, Arizona Realtors

THE 3 TOP AREAS OF PHOENIX ARIZONA
#1 NORTH PEORIA
North Peoria is a booming development in the NW corner of the recently completed Loop 303. With new home builders on every corner, N. Peoria boasts affordable, high end housing and new neighborhoods complete with brand new shopping centers and family owned restaurants. Many of the homes have larger lots for RV garages and gates allowing for plenty of storage for your boats and jet skis. Convenient for your enjoyment at the nearby Lake Pleasant. Peoria is also home to one of the state's top school districts.
#2 BUCKEYE
Buckeye is a fast growing suburb west of Phoenix in the southwest portion of the valley. New affordable housing is being created in record numbers, as Buckeye continues to see employment growth with companies continually moving to the city outskirts. With easy access to Phoenix along the I-10, Buckeye continues to see major developments due to its affordable housing on highly desired larger lots. Whether you're looking for a quaint neighborhood with front porches, tree lined streets and a main street district (found in Verrado) or horse property on open acreage, Buckeye is the up and coming place to reside in the West Valley.
#3 GLENDALE
Glendale borders Phoenix to the west and is home to the entertainment district of Westgate which includes the University of Phoenix Stadium for the Arizona Cardinals and Gila River Arena for the Arizona Coyotes. The entertainment area includes shops, bars, and restaurants, as well as hotels and casinos. Upcoming developments will include an IKEA and Top Golf. With a mixture of older and newer homes, prices range in value from low income to luxury housing.
THE LOCAL EXPERTS BRIAN AND HEATHER PETREE
PHOENIX AREA REALTOR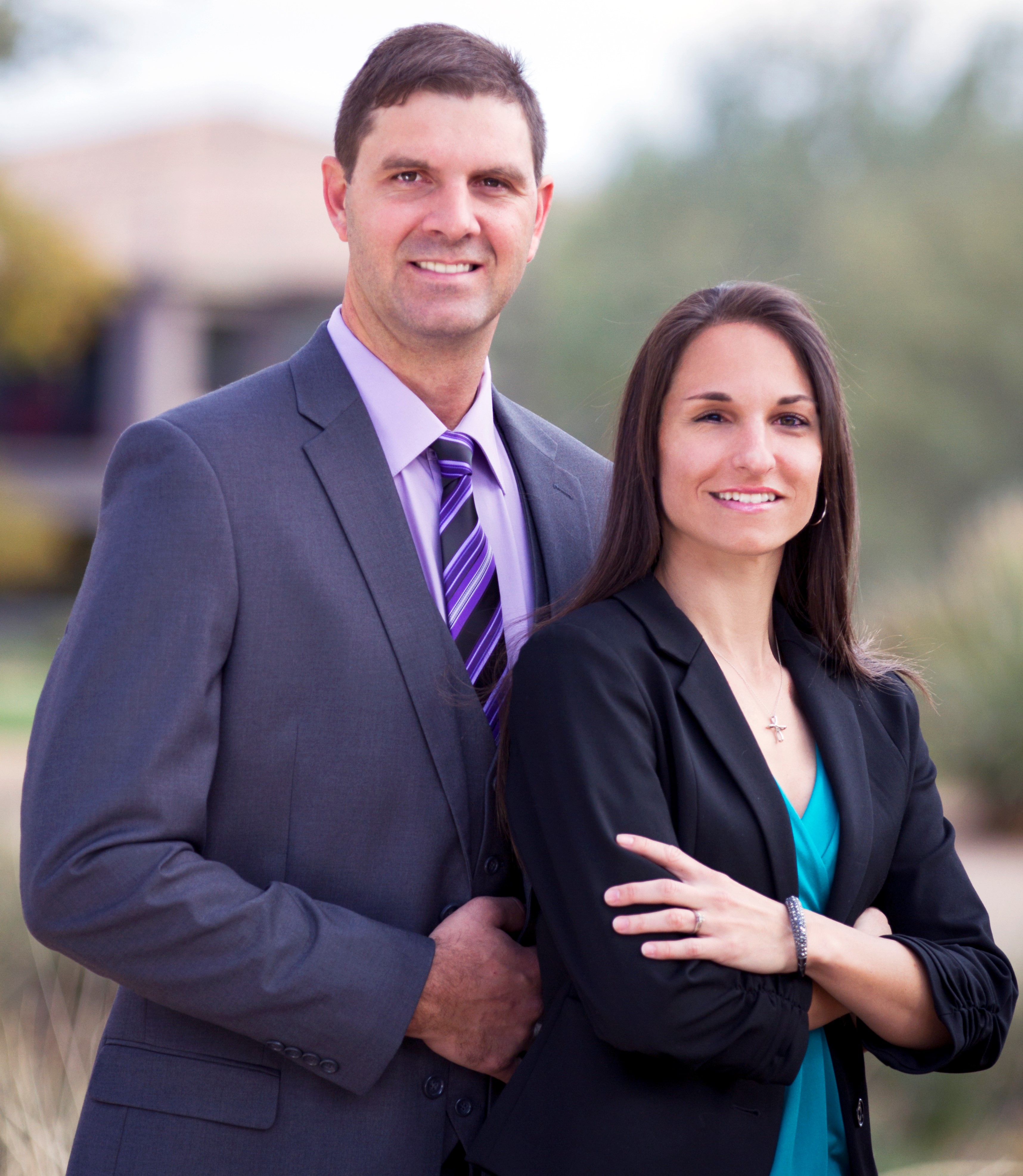 We are a husband and wife team with over 12 years' experience in the real estate industry. We were both born and raised in the Valley of the Sun and feel there is no better place to reside. Given our passion for real estate, we continually stay up to date with current market conditions and trends and have extensive knowledge of many communities throughout the valley.
We pride ourselves on providing an "Exceptional Experience, Every Client, Every Time." We build relationships through guidance, education, communication and a strict adherence to our core values. Our clients are informed, comfortable in their decision making, and always in control. We believe in an upfront, no non-sense approach to buying and selling real estate and we are certain we can help you achieve your real estate goals with ease and confidence!
Reach out today to schedule a FREE, No Pressure, No Obligation consultation if you are planning a move to the Phoenix area.
"I want to thank Heather and Brian for all their help. We were lost at the beginning with what steps to take when purchasing our first home but they guided us through the whole process, they always answered our questions, and made time available for us. They are very professional and went above and beyond our expectations. Thank you for making us feel like family when helping us through this process. I would more than recommended Heather and Brian to anyone who's looking for a realtor."
– Cesar and Erica M. – first time home buyers
Testimonial for Heather and Brian Petree, local Phoenix, Arizona Realtors